5 Days Gorilla Trekking and Wildlife Safari in Uganda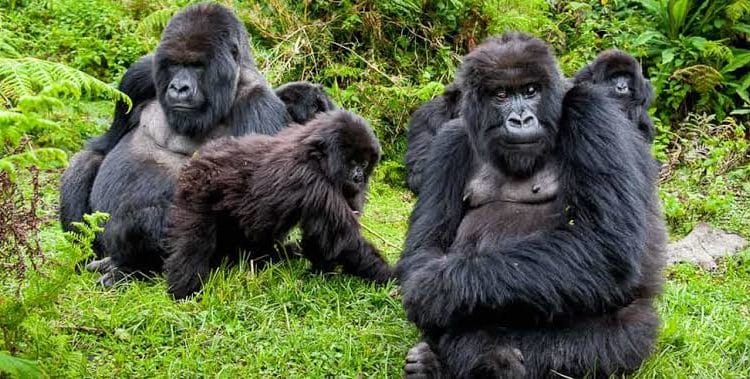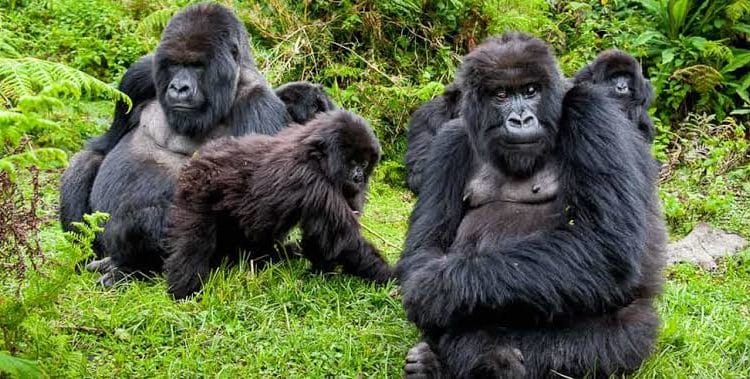 Travel for an amazing experience where you will get to enjoy a gorilla trekking safari as well as several other interesting activities in Uganda. Spend time during your holiday taking in all of the wonderful variety of species living in their natural habitats. Taking you to an authentic African vacation, this safari will be the most exciting trip of your life!
Day 1 - Entebbe to Queen Elizabeth National Park
You will have an early morning start from Entebbe International Airport (EBB) where you will be picked up by your driver or guide who will brief you about your tour and then start on your scenic journey driving westwards with a stopover at the Equator for photos and another stop for lunch in Mbarara.
You will then continue on your drive to Queen Elizabeth National Park. As you get into Entebbe Airport you will enjoy a beautiful aerial view of the magnificent Lake Victoria.
Later on, as you drive out of the Entebbe area, you will have the chance to see the lake which comes close to the road. You will drive past hillsides before entering the savannah plains of Queen Elizabeth National Park. Check into your accommodation for the night and get the much-needed rest as you anticipate the next day's activities.
Day 2 - Queen Elizabeth National Park
On this day, you will have a game drive and a launch cruise along Kazinga Channel. Get up and get ready early for your breakfast and proceed for a 6:30 a.m.
morning game drive. The Park's diverse ecosystem of grassy plains, tropical forests, rivers, swamps, lakes, and volcanic craters is home to an incredible abundance of wildlife.
After lunch, go for the afternoon launch cruise on the Kazinga Channel. The Kazinga channel is a wide, 20 miles long natural channel connecting the two Lakes; Lake Gorge (which is to the east) and Lake Edward (which is to the west). This is home to a variety of water birds and on a hot day, hippos, elephants, buffaloes, and waterbucks can be sighted as they bathe and drink water at the water's edge.
From the enormous Goliath heron, a statuesque one meter high, to the tiny jewel-like malachite kingfisher, Queen Elizabeth's bird life offers something for everyone to admire. As your boat slowly meanders along the Kazinga Channel towards Lake Edward, you could see; common squacco heron, greenshank, wood sandpiper, common godwit, and a water thick-knee (a wader with big eyes) feeding on the shore; and a lone African Spoonbill.
Flocks of loud, luminous glossy starlings flitting from bush to bush; vibrant Madagascar bee-eaters, and beautiful little, water-loving blue-breasted bee-eaters hovering in and around the burrows they excavate out of the earth banks and admire the gorgeous monochrome sacred ibis with its elegant curved beak; handsome Egyptian geese, Eurasian marsh harrier, and the African fish eagle. You could choose to go with the guide in search of more birds or continue for a game drive before heading back to your accommodation for the night.
Day 3 - Bwindi Forest National Park
In the morning, you will depart Queen Elizabeth National Park for Bwindi Forest National Park. Drive through the Ishasha sector of the Southern part of the park and look out for the rare tree climbing lions in fig trees.
Throughout the entire world, there are only two places in which you can find populations of these tree-climbing lions, one being in Lake Manyara national park found in Tanzania, and the other being the Ishasha sector within Queen Elizabeth National Park. It is a very breathtaking sight to see the king of the animals perched up high on one of the branches of the huge fig trees in this area, lazily resting away as the day goes by.
In addition to the fascinating population of the tree-climbing lions within the Ishasha, you will also come across huge buffalo herds, and numerous antelopes that keep crossing your path, and there are also a number of elephants that have actually settled within the Ishasha area. This sector offers a feeling that you are on that safari just by yourself enjoying this pristine African Uganda safari wilderness.
Day 4 - Bwindi Forest National Park
Bwindi Impenetrable National Park lies in southwestern Uganda on the edge of the Rift Valley. Its mist-covered hillsides are blanketed by one of Uganda's oldest and most biologically diverse rainforests, which dates back over 25,000 years and contains almost 400 species of plants. More famously, this "impenetrable forest" also protects an estimated 320 mountain gorillas which make up roughly half of the world's population, including several habituated groups, which can be tracked. %After an early breakfast and a briefing by a ranger guide; enter the gorilla sanctuary for your adventure. The beauty of this rainforest is spectacular. The area offers a dramatic steeply forested landscape and is incredibly dense, but crisscrossed by numerous animal trails allowing access to tourists. The time is taken and the terrain varies with the movements of these great primates. The thrill of spending time observing these gentle and endangered giants is an awesome, exciting experience to be long-savored.
Day 5 - Bwindi to Entebbe
On this day, you will have breakfast and transfer back to Entebbe with lunch en route. You will be dropped off at Entebbe International Airport (EBB) for your onward flight to your next destination. Along the way, you could stop occasionally to talk to the locals or take pictures at the equator and buy some souvenirs to take back home with you.
4 nigths accommodation

All government taxes and levies

Daily meals & water

Game drive and gorilla trekking in Bwindi Impenetrable Forest

Game drive in Queen Elizabeth National Park

Launch cruise on the Kazinga Channel

Services of a full time English speaking driver or guide

Transfers to and from Entebbe International Airport (EBB)

Transportation in a comfortable four-by-four vehicle
Activities not mentioned in the itinerary

Airfare

All other services of a personal nature

Gorilla Trekking Permit $600

Personal insurance
3 Days Easter Murchison Falls Tour 2023